In May of 2022, Scott Herman was honored at the 88th Legal Professionals, Inc. conference in San Jose, CA where they made him an honorary member (one of only five people to have been named in 88 years!). There is no better testimonial than this one. Below is a photo of all the people who have asked Scott to do things for them on the various local organizations for which is is also the webmaster!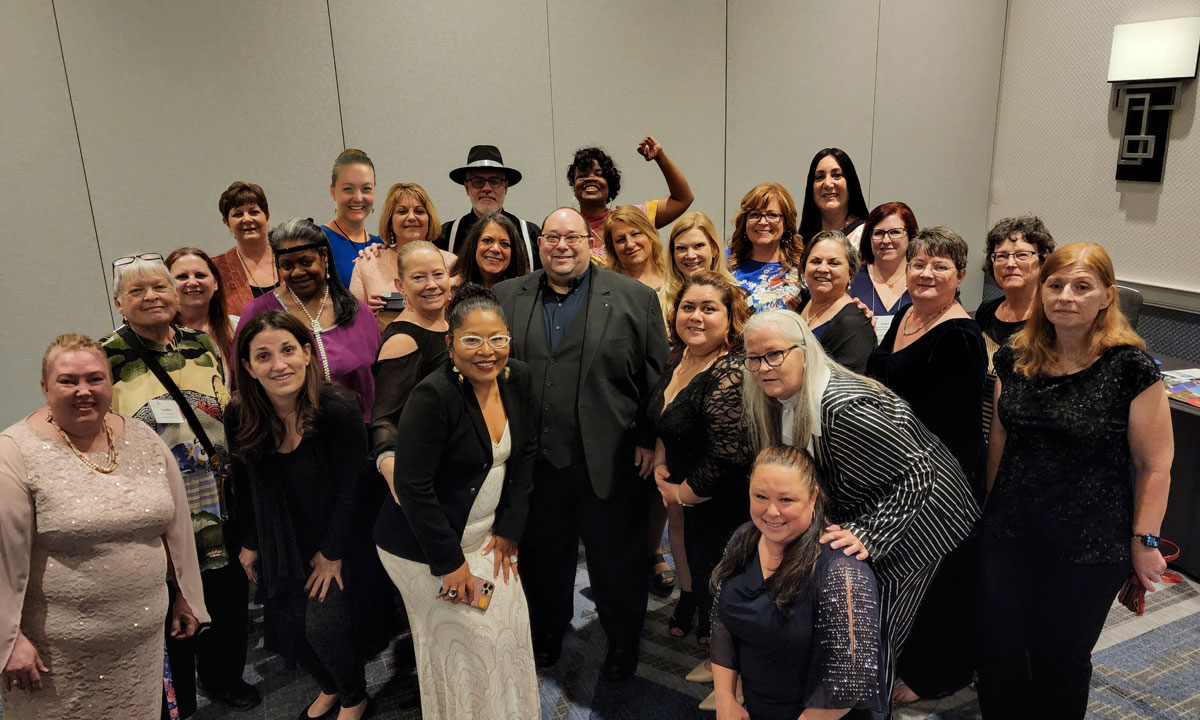 Choose a section below
Website Development and Hosting
My website created by Web Editor greatly increased my businesses visibility and have resulted in many new nationwide clients. Scott's talent and creativity are unparalleled!

Chet Domagala
Antique Car Radio Repair
WebEditor Design Services, Inc. has been the web hosting provider for Sacramento Legal Secretaries Association for several years. Scott Herman is absolutely the best. He is very responsive and always handles my concerns in a timely manner. I know he services many, many clients, yet I'm never made to feel he's too busy for me. He makes me feel like I'm his only client. If I have an issue with anything, he's right there to resolve it. I highly recommend WebEditor Design Services, Inc.

Marci Frazier, President
Sacramento Legal Secretaries Association
Scott is Awesome! He has been Kadimah's webmaster since 2009 and also creates out annual ad book. He always seems to know what I need before I finish explaining it. His turnaround time is amazing. The website always comes up lightning fast! He is always attentive and very responsive when it comes to questions or concerns. Scott is a pleasure to work with!

Renee Lehner
Kadimah Academy
You went above and beyond what I had pictured for my website. Thank you for your time and your vision.

The ease of use and maneuvering through it. the picture quality is amazing.

Thanks Again,

Lawrence Schotz
BAPTISH BISTRO LLC
Remember Life is Too Short to Eat Bad Barbeque
Scott is the best! He's always available when I need him via phone or email. I've never had a concern that he can't remedy. Just recently I was having a major issue with spam in my email, Scott immediately got to work on putting filters in and continue to test my email to make sure spam was getting filtered out and without me following up he took it upon himself to continue to pursue the issue until there was a satisfactory outcome. I've used Scotts services for almost 15 years, I have 2 websites with him, 2 email addresses and I'm always asking him to help me with more. I have recommended him to many people and I will continue to. I'll never leave Scott, he's the best!

Wendie Lubinsky
WML Wellness and Transform U Health
Scott Herman has been hosting and maintaining the Legal Secretaries Incorporated website for since 2008. He designed our first Website, and when we wanted to redo the site, we knew Scott was the guy for the job. I've personally have zero complaints. He responds to our requests in a timely manner and is always helpful with problems that arise. He even created a super easy way for me to upload our corporations flyers to the site on my own. I highly recommend Scott Herman and WebEditor Design Services, Inc.

Side note: in 2022 LPI made Scott Herman and honorary member of their organization. He is one of only 5 people to be given that distinction in LPI's long history!
"Scott Herman is that rare service professional who you can count on every time. Whether it's creative design work, technical work or hosting your website on his secure services, you can count on Scott to do what he says, and more. I have worked with Scott since 2006 and found him very quick to respond to any questions or needs. I can tell you this, what you read on his "About Us" in terms of integrity, taking care of you when something arises, being available and doing great work–it's all true."
"I have worked with Scott Herman for over 25 years. He greatly assisted me in setting up a few small scale websites. Whenever I was stuck with some problem he was quick to help out. We had a long and successful business relationship."

Tom Krajewski
"Scott Herman has been the greatest help in managing our email accounts and designing our website. He is always very responsive and he can translate any of the computer jargon to those who are not computer savy. Furthermore, he has educated me on website designs to a great extent. Scott acts with professionalism at all times and our firm is proud to have his services. I highly recommend Scott and WebEditor for any potential customer! Excellent job as always Scott!"
You are AMAZING and a pleasure to work with!!!
You are a blessing in my life. Thanks for all that you me with computers. You are so knowledgeable in this area. Thanks for your expertise.

Shelly Gerovac Soprano
I am blown away by your talent. I love the website.
YOU ROCK MY FRIEND!

Ike Ilkiw
NYC Adventure Tours
Thank you for doing the artwork for our booth at the 2011 SEMA show. It really gave us the professional look we needed to impress our prospective customers. Also the version of our website that you created to run on a stand-alone computer was a terrific sales aid during the conference.

John Flemming
WingTech Spoilers
The change to the new servers is terrific. I have been on the Internet and have had a website for over 12 years but your servers are lightening fast.

Drew Stevens Ph.D.
You always have a speedy response to my requests, and have had from the beginning when I hired you to build my site. When you add to that the quality of your work, the results are amazing.
My thanks,

Alan Allard
Scott Herman has been an excellent resource for me for my website creation, evolution, administration, and success. He has provided great ideas, wonderful service, and reliable technology. I recommend him to the people I coach, and I recommend him to you.

Alan Weiss, Ph.D.
President
I've been extremely pleased with the level of attention and guidance that Scott Herman provides. I have NO idea when it comes to computers, websites or HTML… I rely on Scott more and more every year… and it's awesome that as my business grows, he's able to provide the additional services I need. He brings the best of his experience working with others to my account, and it's deeply appreciated. (and his timeliness is astonishing).

Harmony Tenney
Well, well ,well………..OUTSTANDING!! You really outdid yourself….
"On a scale of 1 to 10 the marketing brochure you created for us, was a 22! Thank you so much for all of your extremely creative, prompt work, and putting your heart and soul into everything you create for us. We couldn't run our business without you!"
Excellent excellent job!!!!!!!!!!!!!!!!!!!!!!!!!!!!!!!!!!!!!!

Stacy Martello
Fight Pink
Thank you for your ongoing patience, advice, expertise and prompt, professional attention to our website and newsletter needs. I would highly recommend your work at Webeditor to any and all interested organizations. I would be happy to be a reference if they would like to contact me personally as well!!
We at Nishmat Hayyim are truly fortunate to have you to call upon in time of need!!

Margaret Wiggin, Director
Nishmat Hayyim
1566 Beacon Street
Brookline, MA, 02146
Working with Scott Herman (or Web Editor) is always fast, accurate and well-explained. He (They) can make even the most daunting tasks seem like child's play. Thank you, Scott!

Michael Hensinger
Legal Marketing Association – Los Angeles
A few words to describe Scott and his WebEditor Design services – technical genius, proactive problem solver, incredibly responsive, value added. He quickly takes care of every request. He recommends workable and reasonable solutions. He is always fair. He has taken extensive measures to filter out most of the annoying spam making my job easier. He keeps the server running so I never have to worry about those technical issues. He keeps me informed of changes and upgrades in a timely manner. Scott is a valuable business partner.

Lynn Murphy, President
Key Innovative Solutions, Inc.
As a computer and website ignoramus, I cannot recommend Scott enough for taking the pain out of the website design and development process. He masterfully put my site together, patiently helping me design the lay-out and helpfully commenting on the feel and the look of the content. Once it was up, Scott has managed my ongoing content development and my e-mail with skill, wisdom and humor. He responds to questions and requests right away, and while surely qualifying as the king of reliability, he manages to do all of this with his own flare and a light touch that comes from his many years of experience. Although I live across the continent in the San Francisco Bay area, working with Scott in Buffalo, New York couldn't be easier and as long as he can put up with me, he's my website/e-mail guy for the long haul.

Ann Lipson
Immigration Lawyer
I hired Scott because within minutes, not days, the changes to my web presence were made. I continue to be impressed with Scott's timely response to my ideas about enhancing my online image.

Dr. Cal LeMon, President
Executive Enrichment, Inc.
1448 E. Bradford Parkway
Springfield, MO 65804
I trust Scott with my website services for one central reason: his responsiveness to my needs. I always know that Scott will turn things around quickly, most times within a matter of hours. With a growing business and no time for hassles, I will continue to work with Scott, because my business depends on it.

Leif H. Smith, Psy.D
President
Personal Best Consulting

---

and another followup from Leif…
Was looking over my site and just wanted to let you know how happy and impressed I am with the work you've done-from getting everything organized to making the fonts readable and user-friendly.
Just thought I'd send some kudos on a job well-done. Back to my research…
Leif
Your work is damn good!

Dr. Phil Shoenberg
Ghosts of New York

---

There is a reason why Scott has been my web editor for so many years. Whenever I ask him to make a change to one of my pages he does it in less than 24 hours and then he e-mails me to let me know that it's been done. He's fast, accurate, creative, and very easy to work with.

Connie H. Deutsch
The website is tremendous. Phenomenal job!

Lindsay Thomas Kough
Financial Planning Director
Bank One
I just want to let you know what a pleasure it has been working with you to re-vamp my website. I pride myself on responsiveness to my clients, but you have taken that even further: not only was the project completed quickly, you went above and beyond when it came to sound and photo editing for some of the materials on the site. Although I can be very picky, I believe in giving credit where credit is due, and the fact that I have already recommended you to three people in the last month is probably the strongest testament to the quality of service you provide.

Lisa Solomon, Esq., Attorney
I wanted to take a moment and thank you not only for the excellent web-hosting services you have been providing for my company but to also extend my thanks for the great job you did on the recent redesign of our website.
Although you have consistently done a great job for us in the more than 5 years you have hosted and designed for us, this time, you outdid yourself. At least once per week a colleague, client, or prospect contacts me with unsolicited compliments about the new site. Given the fact that most of my clients are Fortune 500, that is quite a compliment to you.
Your skill and professionalism in your field are matched only by your dedication to serve your customers with nothing less than excellent customer service. I would highly recommend you as a skillful and dedicated partner to any company regardless of size or industry that wishes to create and maintain a presence on the web.
I would be pleased to serve as a reference for you and welcome the opportunity to share my experience of working with you with anyone who is considering utilizing your services.

Stephen Xavier
Cornerstone Executive Development Group, LLC
Dan's first testimonial:
Just wanted to take a moment to say thank you for the tremendous job you have done in designing and continually improving my website, www.thecoughlincompany.com.
You really are much more than a website designer. You have provided me with outstanding consulting advice about marketing, simplifying my message, providing clarity, and adding value to viewers.
However, the thing that is most impressive about you is the quickness of your turnaround time. Whenever I have a problem or want to make a change to my website or try a new idea, you always treat me as though I'm the only customer you have. I really, really appreciate the individual attention you give me and my website. I look forward to working with you as we take this enormously important medium in my business to higher and higher levels of effectiveness. I would gladly recommend you to any small business owner as both a website guru and an excellent marketing consultant.
I really think you are brilliant! You have a real genius for visual connections to broad concepts.

---

Dan's second testimonial:
I think you're brilliant! I just love the way the page has evolved and I love the new section. I'm going to add a lot more to it. Thank you so much. The website has become a very valuable marketing tool that leads to phone calls and new projects.

---

Dan's third testimonial after a site facelift:
I remember in January 2000 when the first website went up. I was really excited. It took my business to a much higher level.
Today I feel like I'm restarting my business at a much, much higher level. I love what you created. It is so professional and classy and elegant. Just perfect. It represents me exactly the way I wanted it to. Thanks for really doing tremendous work.

Dan's third testimonial:

15 years of excellence. I've asked you to do a million little things, and you've done them all really, really well. I really, really like all the things you did for the website this past week. I think it looks outstanding. Simple, clear, packed with content, and the testimonials look excellent on the home page.
Thank you for everything. Here's to 15 more great years.
My company had no idea about the Internet or what kind of response that we would receive from it. We first started in August and since then our monthly hits have climbed, and continue to do so.
We believe the internet will have major role in the growth of our company. I have people call me up, rather than e-mail, because they say that e-mail doesn't do our site justice. We are constantly getting positive feedback about how user friendly it is and mostly how easy it is to move around from section to section.
We also are happy with the short period of time it takes for images to download, people will not wait around while a pretty picture unfolds. And in my business you need pretty pictures, believe me, but Scott knows what to do to get those images on your screen quick without jeopardizing quality.
Keep up the good work!
We were contacted by a company in Japan who supplied us with pianos at such a good price that he was able to make enough to pay for his website for the next 50 years! They found us through our website!
The website you set up for us paid for itself three times over in a 6 month period. I am pleasantly surprised that we are getting 7500-8500 hits a month and that is why I want to enhance the site.

Steve Hansen
H&R Construction Parts
They say that in times of need you find out what people are really made of. Well, you're made of really good stuff! Thanks for fixing the domain mess.
Many thanks!

Pat Kirkland
Computer Training:
I welcome this opportunity to recommend Mr. Scott Herman to you for a position as an Instructor/Lecturer. I have known Scott for many years and I have long been struck by his unique ability to teach both novices and experienced users today's complex computer tools. Scott has a real dedication to teaching students how to become more productive by using the right tools for the task at hand. Of equal importance, Scott is an extremely personable individual with a positive outlook on life. He gets along well with colleagues and students.
Scott is a strong teacher. I have observed his interactions with students and have discussed the problems of particular students with him. He has a unique ability to convey ideas and concepts in a manner that is comprehensive, yet easily understandable, enhancing the learning environment of each class. Most important to me, Scott creates a rapport with his students. Students learn in his classes.
Scott has significant experience both as an educator and as an IT professional. His teaching experience includes effectively teaching large computer literacy classes to over 400 students for the department of Computer Science & Engineering's in the Spring of 2000. This was a challenging and difficult course to teach because students enter the course with little computer experience. From 1994 to 2000, Scott taught short course to local business professionals for the Division of Micro Computer Education on software packages such as Microsoft Windows, Word, Excel, and Power Point, as well as Photoshop and AutoCAD. From 1995 through 2001, Scott owned and operated an Internet Café while simultaneously running a web design business. WebEditor Design Services has since become independent operation and the focus of Scott's attention.
Despite other pursuits, teaching has always remained a passion for Scott and one that he is very effective at doing. I am confident that you will benefit from his enthusiasm, experience, hard work and dedication. I recommend him highly.
Sincerely,

Helene G. Kershner
Assistant Chair of CSE Dept. of SUNY Buffalo
Professor:
You are a horrible professor and a wonderful teacher. As distorted as this may sound, it is a well-deserved compliment. I have been at the university for three years now. I have come across many people with PhDs who know a topic inside and out, but are incapable of relaying such information to a class in any interesting manner. I never expected a "teacher" out of the University at Buffalo, especially from the Computer Science Program. The course evaluation will not suffice. I intend to write a letter at the end of the semester to the Dean regarding your incredible classroom style and love for computers. It was interesting even to learn about the computing options at the University that I already knew about. Thank you. (This sounds slushy and ass-kiss'ish, I realize. It isn't, though. I have had professors close doors in my face during their office hours; professors who have had papers for weeks and never looked at them, and invited me to their office hour to discuss these papers that they had not bothered to read; professors who would ignore the students with their hands in the air . . . It is a wonderful surprise to know that people do exist who want to be professors and actually have a gift for teaching.)
Sincerely,

Mary Hoftiezer
To Professor Raj S. Acharya, (Dean of the CSE Dept at UB)
My name is Terrance Rice and I am currently a student in Scott Herman's CSE 101 class. I am writing you to tell you how much Scott has helped me in the short time I have spent in his class. I always considered myself rather knowledgeable in the area of computers but with Scott's help I was able to greatly expand on skills I already had. Through his suggestions and shortcuts I have been able to write higher quality papers in less time. I have also learned to do higher quality presentations due to his lessons on Power Point and Excel.
Although this is a lecture, Scott has a way of making you feel that he actually cares about each and every student. This is very rare in a class of this size. His clear and careful explanation of each step makes you feel as if he is over your shoulder teaching you one-on-one. I can't count the number of times I've heard Scott say "please stop me if you don't understand", and when asked a question he doesn't sound as if he's annoyed by your inquisition.
I feel that Scott's great teaching technique and congenial personality are worthy of praise and recognition. In addition, I feel that every student at this university should benefit from Scott's class and therefore should be required for all majors.
Sincerely,

Terrance C. Rice
One of my life's most fortunate ongoing educational events has been my association with Scott Herman and Common Grounds Internet Cafe. Working alone, managed to crash my system while trying to hook up with an Internet Service Provider. I never got near it again until I found Common Grounds Internet Cafe shortly after it opened in 1995. I thought, "This is it! Live contact with real humans is the way to unravel the technical conundrum!" The next week, one of the Cafe's techs was at my house installing the software and making the connections which had befuddled me the year before. I took Scott's "Intro to the Internet" and shortly thereafter the "Intro to Computers" course. The latter filled in the many blanks in my self-taught computer education. Next came a number of tutorials including Microsoft's Word and Excel. My most recent course was "HTML Programming," and now I'm working on getting my own pages on the Web! Besides just really enjoying the classes, and the Cafe itself, I have become the "Geek in Residence" at my place of employment. Last week I set up e-mail applications and an FTP site for sharing files between my own Hospital-based program and our Outpatient clinic. And I can't begin to tell you how great it's been to help my daughter use the Net to get information for high school homework assignments.
Scott has really put together a resource that anyone who is earnestly attempting to make the journey to "Computer Literacy" will find very helpful and enjoyable.

Mike Santillo
Thank you for allowing Holland Teachers to come to the Internet Café for Spring Staff Development Day. They came back with a lot of enthusiasm and wonderful things to say. A couple of teachers said it was the best Staff Development Day in Years!

Suzzanne Canna
Holland Technology Coordinator
I'd like to take this opportunity to express my appreciation for the AUTOCAD education I recently received from you. I felt that your communication of the various aspects of the ACAD program was extremely clear and concise.
I found your lesson plan, teaching method, and overall instruction, to be very easy to understand. As a direct result of the training, my proficiency has increased dramatically. I would not hesitate to recommend you as a very skilled educator, in the field of computers, to anyone seeking to expand their knowledge. Once again, thank you for a great learning experience.

Tim Conley
Conley Computer Stacking Systems
I'm pleased to write to you about Scott Herman and the excellent job he has done in training me in the use of Autodesk and Softdesk products. I am willing to assist Scott in any of his future endeavors only because he is a responsible, intelligent individual.
Scott has not only trained me in the use of the programs, but has provided myself and my company with a working plan for CAD related items. He makes it his business to be aware of all the new technologies, products, and services available to his customers. His honest recommendations on hardware purchases have proven to be excellent choices.
I can strongly recommend Scott for any of his future endeavors. If I can be of any assistance to you regarding Scotts capabilities, please feel free to contact me.

Andrew S. Braum
Project Engineer, Frigidyne Air Conditioning Co., Inc.
I learned more in your class than I did in an entire semester in College!

Jennifer Montana
WNYO TV, WB 49
Hello, just wanted to send a note to tell you that I have completed the Common Grounds Internet Cafe course in "World Wide website Design & Development" that Ken-Ton offered I have to say that this course has opened me up so much to the world of HTML and Web page design I would recommend this course highly…. Thanks for offering it.

Michael Henry
People are always looking for an easy way to learn new software without taking months to read through a manual. I'm glad I met Scott Herman and his knowledgeable staff at Common Grounds Internet Café.
His training courses guide you through step by step. To make sure you understand what he is teaching, he asks you questions. (I like that!)I most recently took the Microsoft Office class which has helped me become more organized in both my work and personal time.Learning Excel, Word and help with the Internet has made my computer system more understandable.Thanks Scott!

Robin W. Pegg
Customer Service Manager
I took your website Development class over a year ago (maybe it was even two years ago), and I cannot tell you how much it has helped me. Not only did I enjoy the class, but the techniques that I learned assisted me in creating and upkeeping my company's website.
Best regards.

Pamela Zagami