This document will help you get set up in your new account.
Set up your mail program:
For accounts that already have your mail program configured, here are the new settings:
Secure SSL/TLS Settings
Username:
Your full e-mail address
Password:
Use the email account's password.
Incoming Server:
mail.webeditorhosting.com

POP3 Port: 995
IMAP Port: 993

Outgoing Server:
mail.webeditorhosting.com
SMTP Port: 465
Authentication is required for IMAP, POP3, and SMTP.

Make sure you choose "SSL" for the type of encrypted connection for both incoming and outgoing servers.
You'll find this under 'More Settings' => 'Advanced'

Also, leaving the mail on the server for 14 days is a good idea.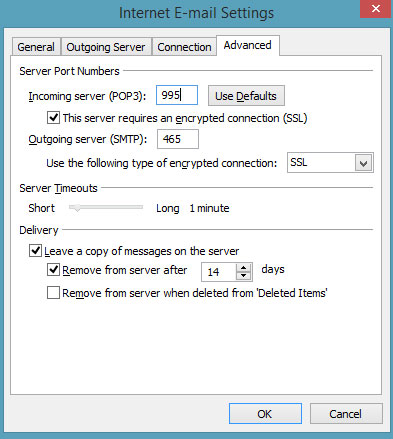 It this is a new account:
These instructions are for Outlook. If you have another mail program, see below for instructions.
Go to set up a new account.
Put in the e-mail address and your name as you want to have it appear in the mail.
Put in the password. (Your password should be the same as it was on the old server.)
It should autodiscover and set everything up for you.
If you go under the advanced settings, you can change it so that it leaves a copy of the mail on the server for a couple weeks. It's a nice precaution and it also lets you see your mail in the webmail since once it is downloaded to outlook you would not see it there.
In order to log into webmail:
Go to https://webeditorhosting.com/webmail (replace yourdomain.com with your actual domain.)
Log in with your full e-mail address and password.
You'll see, "Change your email configuration options anytime." Click "Got it"
Choose Roundcube as your default Webmail Application.
Set your name and other details as you want them to appear.
Click the Gear Icon and the word "Settings"
Click Identities on the far left
Double Click on the e-mail address listed there.
Change the "Display name" to your name as you want it to appear on the e-mails you send.
Click "Save"
Click 'Preferences'
Click 'User Interface'
Set your time zone
Click "Save"
Manual Settings for other mail programs
If you need the manual setting for setting up outlook or some other program, go to the "Configure Mail Client" Menu.
There you will see all the settings.