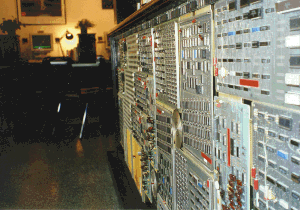 Long before you could tote your laptop into any Starbucks and get online there was Common Grounds Internet Cafe.
Common Grounds was Buffalo's First Internet Cafe. It opened on October 5, 1995 and closed in August of 2001.
Common Grounds offered "Internet access, computer training, world wide web development services and of course great coffee and desserts; including our "Bill Gates Chocolate Cake" which was "rich beyond the comprehension of mortal men!"
Common Grounds was a place where people could feel comfortable with new technology. It was a meeting place in real space, as well as cyberspace, and a home for the "Digitally Homeless."
The Cafe area had four computers running Windows 95, two VT220 terminals for text-only access, a color scanner, a color printer and a laser printer. All of the equipment in the cafe area was available for public use for a very reasonable fee. There were plenty of tables in the cafe area without computers on them, because surfing the Internet was not a prerequisite for enjoying a good cup of coffee!
The training room housed 8 computers running Windows 95 and an instructor's station. Common Grounds offered classes such as: The Internet, Windows 95, Microsoft® applications, Photoshop® and specialized seminars like "The Internet for Parents" and "Marketing and Maintaining your Business on the Internet".
The front of our counter top has an interesting story behind it.
When Scott Herman and Chris Johnson (Common Grounds' First Sys. Admin.) went out to "Internet World 95", in California in April of 1995, they decided to go into China Town for lunch and parked in the basement parking garage of some hotel. In the corner by the exit there was a PDP-11 mainframe telephone system from the late 1970s. The Hotel was just throwing it away! They took it apart and shipped seven boxes of these old computer boards back to Buffalo. The PDP-11 originally cost hundreds of thousands of dollars to build. Each board had to be shipped in its own static free environment, and handled with the utmost care. Scott ripped it apart and made art.
Here are a couple old unedited videos from when I was playing around with a video camera in 1998. I never really used them for anything, but now they are cool to look back on….enjoy!